About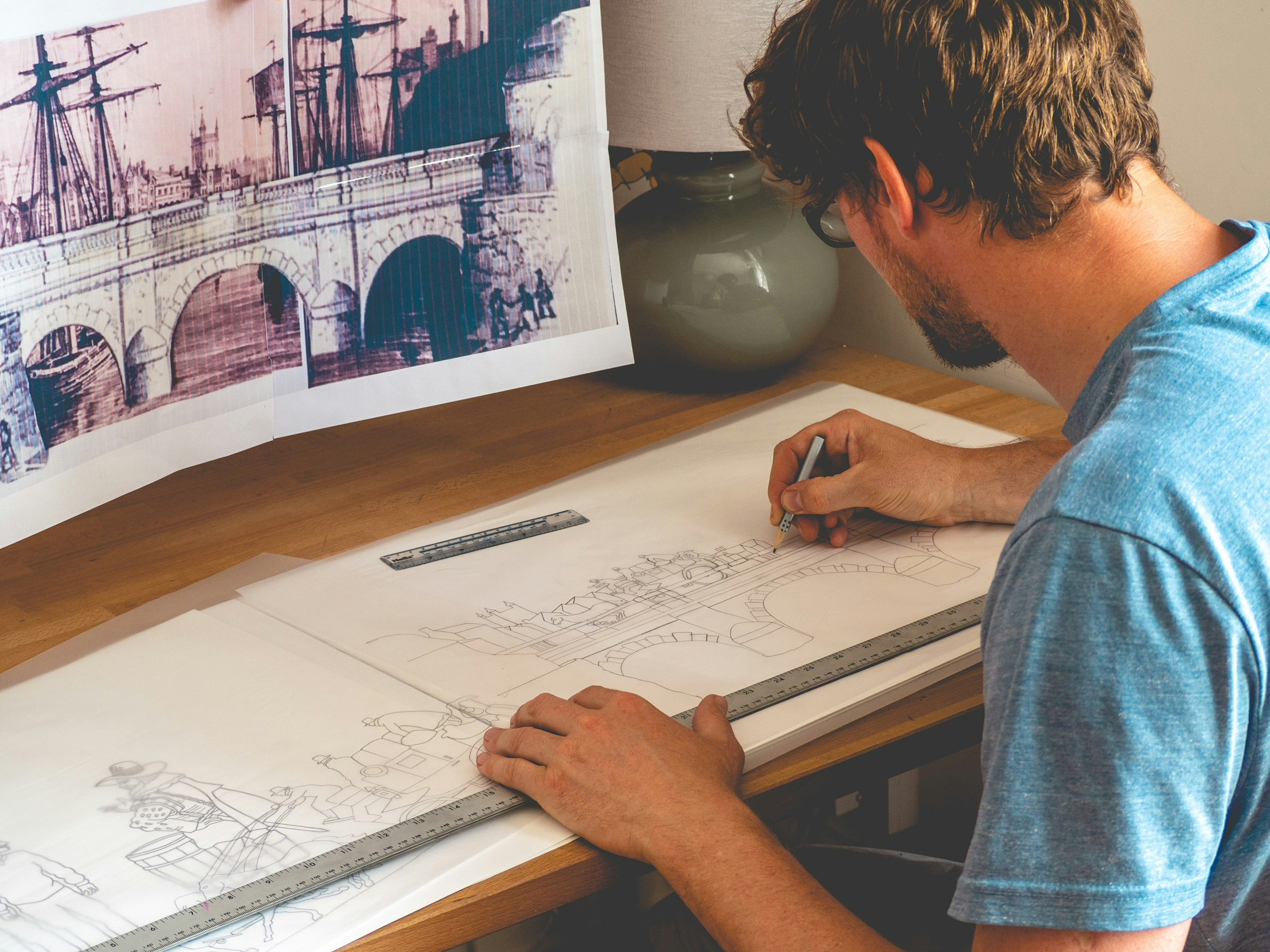 How would you describe yourself to a stranger?

My name is Kesdraws and I have lived in Bristol since 2003, with a four year break in Melbourne from 2010 to 2014. I was inspired by graffiti in Melbourne and started doing this myself. On my return to Bristol I moved from spray painting to painting and illustrating and I started to put together some images of historical events in the history of Bristol. I have always been fascinated by history and I wanted to tell the story of Bristol's history in paintings. I spent most of my childhood drawing, but had stopped when I moved out of home at the age of 18.
What artists inspire you?

My style is inspired by the two dimensional quality of the Bayeux Tapestry and some of my earliest illustrations were my own representation of the Battle of Hastings. I have just finished an A1 commission of that battle and I have sold several pieces like this over the last few years. One of my initial goals was to paint the history of Bristol in a series of riots, protests and battles: a social commentary. I have currently completed four of the pieces and I have plans for another four. I studied the history of War Art at school and the movement and violence of horses and bodies crashing into each other has inspired me ever since. I loved images painted by Elizabeth Thompson and Richard Caton Woodville in particular. I also wanted to paint images showing the dynamism and violence of battle scenes. Another artist that has inspired me is Herge (Tintin). I really like his characters and use of simple flat colours, which I have carried over into my work.
What are your artistic career highlights so far?

My artistic highlights are having recently completed a large Battle of Hastings commission, which is my most sophisticated puzzle-style battle scene yet, and also having finally completed a piece about the Stokes Croft Tesco Riot of 2011. I have been trying to get this piece finished for the last two years and it has been through about five different compositions! The main highlight would be having my Queen Square design featured on one of the new Bristol Pound notes in 2018.
How can people buy one of your pictures and how much do they cost?
All of my pictures are digitised when they're finished and they can be reproduced, as Giclee prints, at sizes ranging from a massive A1 down to A4 or even smaller for cards. Big A1 prints are 100 GB, an A2 would be 50 GB and the costs reduce as you scale down the size. An A4 print would cost 25 GB.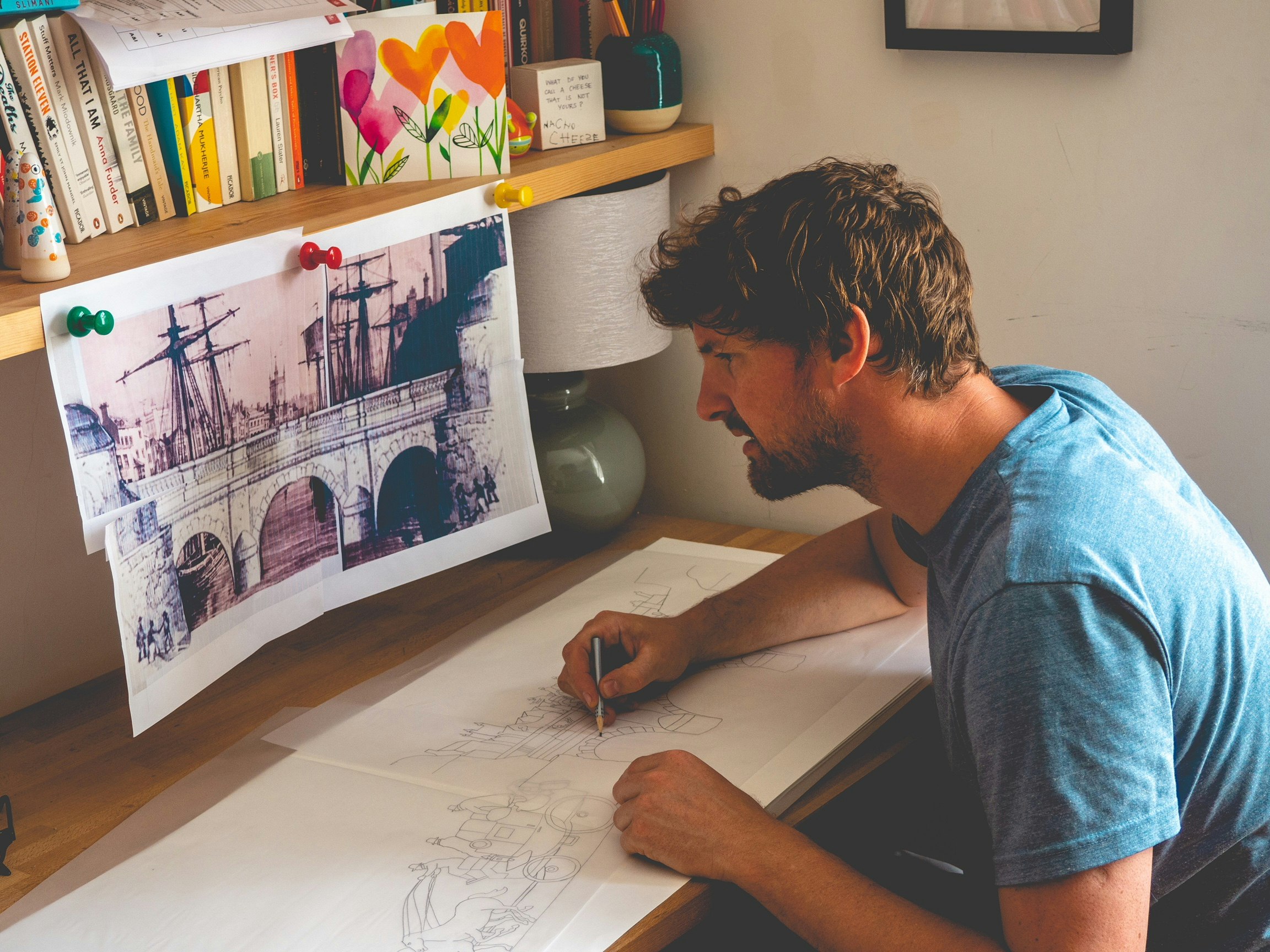 What's the story behind the Queen Square image that you created for the Bristol Pound competition?

The story of the Queens Square riot takes place in a period when the majority of the population lived in squalid conditions and had no ability to control their lives. Most people could not vote and they felt angry that they could not voice their concerns with parliament. There had been a feeling of discontent and anger around other parts of the country for years and the authorities were concerned that a general revolt might take place at some time. When people in Bristol rioted to show their displeasure at the defeat of a Reform Bill in parliament the cavalry were sent in to restore order. The Colonel was reluctant to confront the rioters, but the very presence of the military resulted in a confrontation where a number of people were killed and numerous others injured. The rioters had ruined and looted several buildings in Queens Square and freed inmates from the prison before order was restored. The authorities had stamped out the riot and sent a message across the country, that this type of behaviour would not be tolerated. Interestingly Isambard Kingdom Brunel was called up as a Special Constable to help the authorities prior to the arrival of the cavalry.

My Queens Square riot was inspired by the graffiti of Scott Barden on the Bath Road in Brislington. Scott had depicted the same event and this piece had stood the test of time. It was in place when I moved to Bristol in 2003 and it has only (in the last few months) been sprayed over by other painters. I loved this image, but I felt that I could do a version that was more dynamic and stylised. I also felt that the images created at the time, in 1831, were not really very interesting. They focused on the destruction of property rather than the people involved in the riot. It took about two years and repeated attempts to improve the image before it arrived in its current state. I read several book about the events of the riot, took pictures of the statue in Queens Square and studied the clothes and uniforms of the period. A lot of research has to go into a historical image if you want to try and present it as an accurate reflection of an actual event.